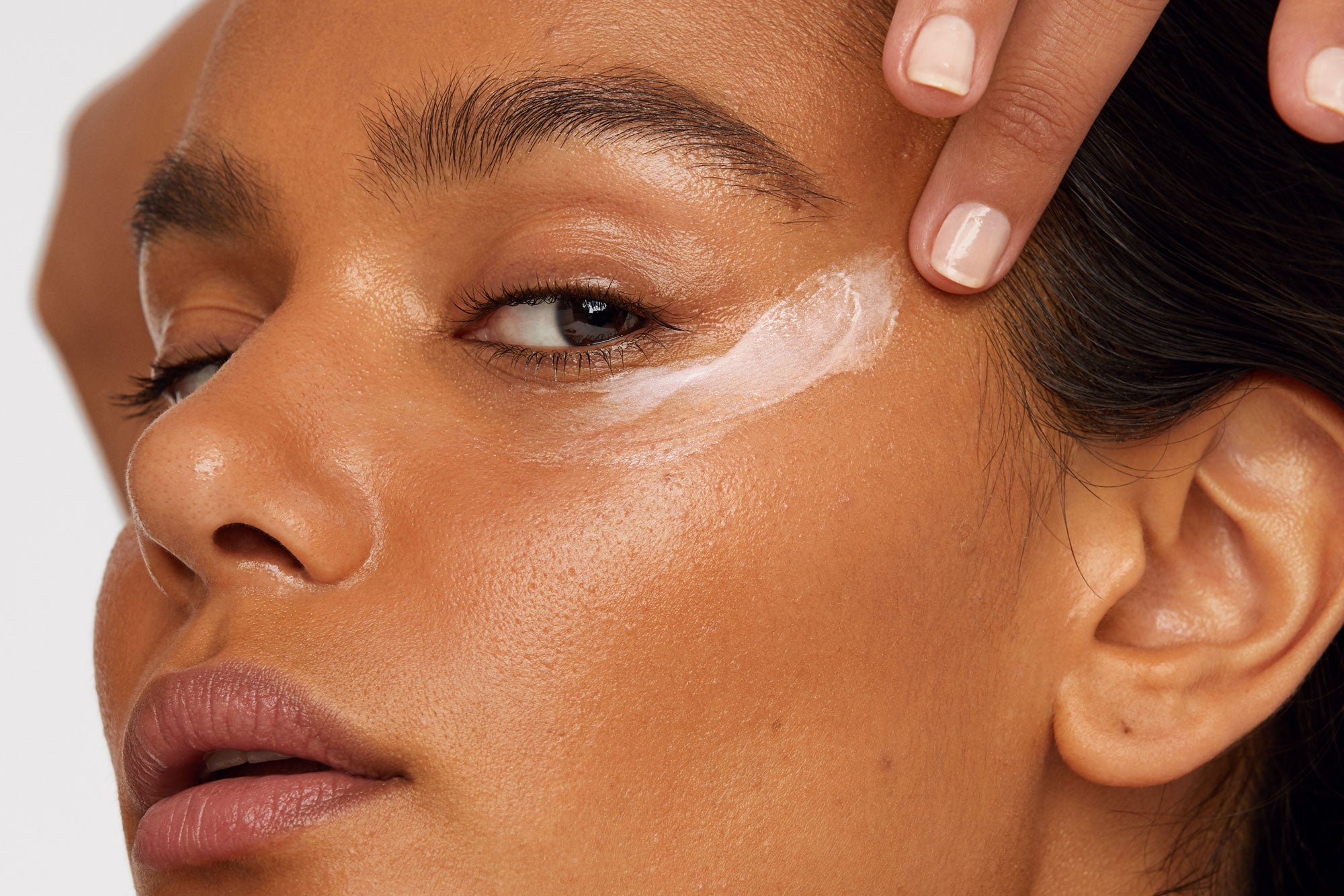 How to Treat Crow's Feet and Other Undereye Concerns
The first place we begin to notice signs of aging, such as fine lines and sagging skin? Our eyes. They're also one of the first indicators of a late night, allergy flare-up, and dehydration (whether from a few cocktails or lack of eye care is up to your discretion). 
While genetics play a significant role in our undereye concerns (dark circles can be hereditary), adding consistent eye care to your nightly skincare routine is equally beneficial for both helping to prevent and treat crow's feet, undereye bags, puffiness, and dryness. Read on as board-certified dermatologist Dr. Jenny Liu explains what ingredients to look for in your eye care products (and how to correctly apply them) for softened, youthful undereyes. 
HOW DOES EYE CARE DIFFER FROM FACIAL PRODUCTS?
There's a reason specific products are made for the undereye area, and that's science. Skin is thinnest around the eyes and requires a different concentration of actives than your other products to help minimize irritation. (So if a product is listed as an 'eye cream' or 'eye mask', know that it adheres to specific guidelines that ensure it's eye-safe). "Eye products are often formulated for skin sensitivity," says Dr. Liu. "With ingredients like retinol, peptides, vitamin C, and niacinamide, it can help to target lines and improve dark circles and puffiness."
TYPES OF EYE CARE 
Tailored eye products usually sit in three different categories: cream, balm, or gel. According to Dr. Liu, the only difference worth noting is the "formulation and the amount of hydration and softening of skin it can provide." 
Eye Cream
This is the most common type of eye care product. Typically, eye creams have thick textures and contain more emollients in their base (waxy, oily substances like fatty acids and cocoa butter), which penetrates the space between your skin cells and leaves skin buttery soft. Zero-G Smoothing Eye Cream contains fatty acid-rich olive oil, along with peptides, to do just that.
Eye Balm
With the thickest consistency of all three, eye balms are both hydrating and moisturizing. They retain little to no water which means 100% of an ingredient can be held within the treatment for maximum effect. Similarly, the wax-based elements form a protective layer on the skin (like a moisturizer) to help lock in vital ingredients and shield the skin from environmental aggressors. All the reasons (and more) is why we used this texture for our Smooth Landing Advanced Retinoid Eye Balm. 
Eye Gel
Eye gels are mostly made of water, which gives them a naturally cooling, hydrating effect. Many eye masks come in a gel format for this reason, too. While balms and creams focus on moisture, eye gels are typically used strictly to hydrate, depuff, and depending on the ingredients, relieve dark circles. That's precisely what our Brightening Eye Gel is for; its combination of caffeine, vitamin C, and niacinamide help flush out the fluid trapped beneath the eye area to treat circles and bags. 
THE BEST INGREDIENTS TO LOOK FOR IN EYE CARE
Whether it's a gel, balm, or cream, the beauty of an eye product boils down to the ingredients used; that's really where the effectiveness of a product sets in. Depending on the concern, these are the best ingredients to look out for in your eye products. "However," Dr. Liu adds, "all of these ingredients usually all work synergistically to improve most undereye concerns."
Retinol
This ingredient for aging skin is widely recommended by dermatologists, including Dr. Liu, for a reason. Retinol stimulates cell renewal to help reduce the appearance of wrinkles (like crow's feet) and hyperpigmentation. 
Don't just go slathering your favorite retinol serum all over your eyes, though. Only use retinol that is specifically designed for the undereyes or you may experience irritation, which can only worsen concerns. Some of our favorite types of retinol include encapsulated retinol (designed for sensitive skin), granactive retinoid, and the plant-based alternative: bakuchiol.
Peptides and Ceramides
Peptides are a chain of amino acids that support essential collagen production, draw in moisture, and keep the skin strong and bouncy. It also helps with fine lines, says Dr. Liu. Look for peptide-filled eye care to plump the skin around the eyes and create a more youthful appearance overall.
Feeling a bit dry? Add in ceramides. This moisturizing agent helps eliminate dryness around the eye area and strengthens the skin's moisture barrier, which protects against sagging and undereye bags.
Black Currant Seed Oil
If you're hyperfocused on premature aging, seek out black currant seed oil. It contains very high levels of both vitamins and antioxidants to nourish skin tissues and improve elasticity, protecting against future damage.
Niacinamide and Vitamin C
These two antioxidants are packed with brightening properties to protect against external aggressors (such as allergies). Dr. Liu recommends both, along with caffeine, to help brighten up dark circles. 
Shiitake Mushroom Extract
This ingredient is popular in Asian culture, known for its healing abilities. Shiitake mushroom extract helps improve the skin barrier and encourages faster skin renewal (key for younger-looking eyes).

Vitamin E
Both moisturizing and soothing, vitamin E is beneficial in all eyecare (or any skincare product, for that matter) regardless of concern.
Hyaluronic Acid
HA is a great ingredient to look for in eye gels. Holding up to 1000x its weight in water, this molecule intensely hydrates and moisturizes the skin, preventing dehydration.
HOW TO APPLY EYE CARE
Eye care is step four in most skincare routines, after cleansing, toning, and applying serums, but before moisturizing. Gels, creams, and balms can be applied both AM or PM, but if your product contains an active like retinol, we suggest using it at night, as retinol's effectiveness can be diluted by sun exposure. Regardless, always apply sunscreen the next day. SPF is pivotal in protecting the skin from sun damage, hyperpigmentation, and fine lines gathering around the eyes. Without it, all the hard work your eye products have put in could go to waste.
Remember: when applying eye products, be gentle in your approach and avoid tugging on the skin. Using your ring finger, lightly pat the product from the inner corners up to the brow bone. The lighter the touch, the better. Wait a few minutes for the formula to sink in before moisturizing or if your product is meant to smooth and hydrate, feel free to skip moisturizing the undereyes altogether. 
Shop eye care below.