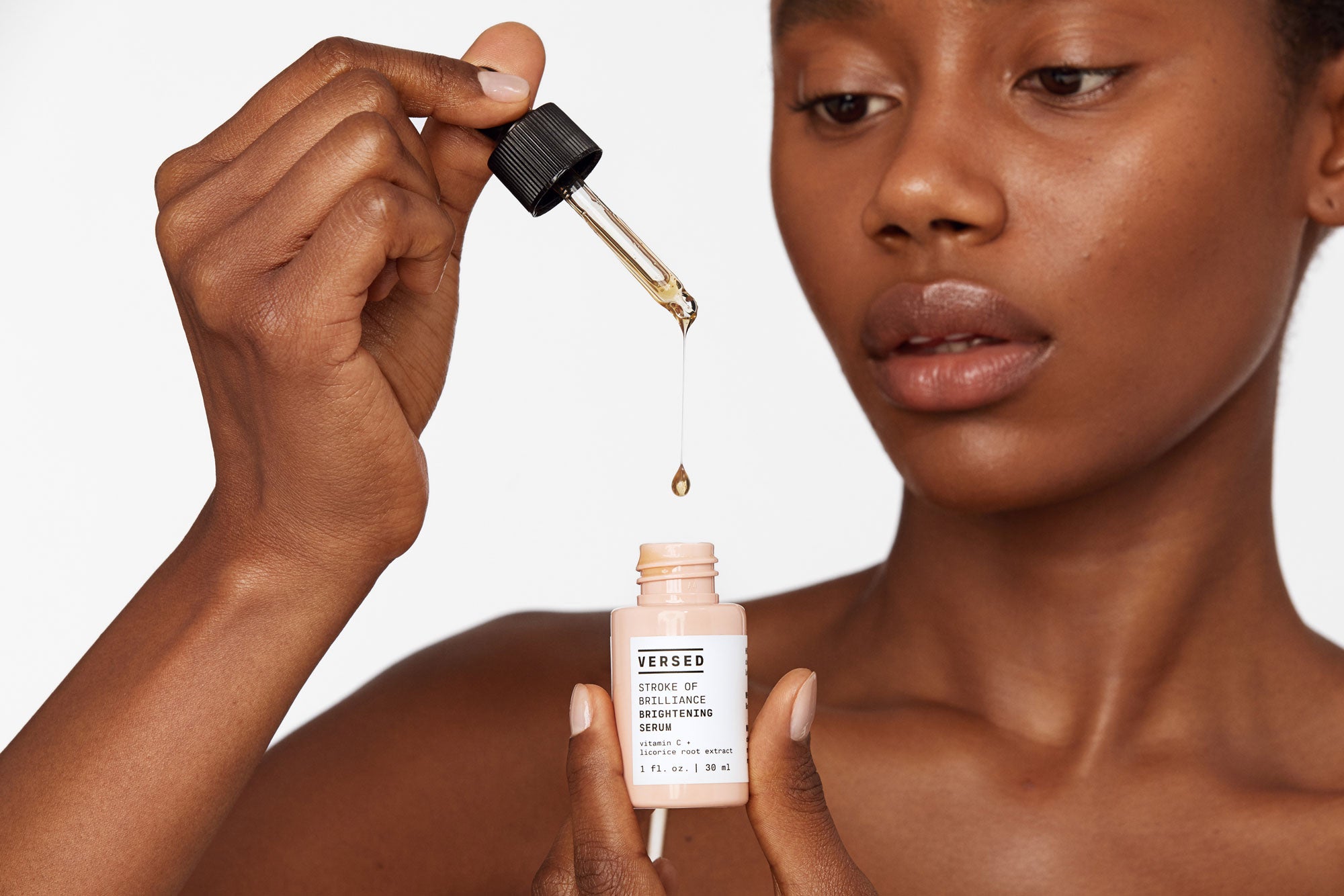 Which Vitamin C Product Is Right for My Skin?
When we talk about the best vitamins in skincare, it's never long before vitamin C begins to dominate the conversation.  
"Vitamin C is one of nature's most powerful and beneficial ingredients," says Toronto-based, board-certified dermatologist Dr. Geeta Yadav. "In addition to providing potent free radical defense and offering anti-inflammatory benefits, vitamin C also promotes collagen production, prevents the overproduction of melanin, and helps your sunscreen work more efficiently." Beyond that, says the derm, "consistent use of vitamin C helps firm, brighten, smooth, and clear skin for a healthier appearance. It is truly an essential ingredient in any regimen."
Versatile as vitamin C is, it's no surprise that it appears in all kinds of skincare products, from toners to serums to moisturizers. Not sure which vitamin C product to use for your skin? Allow us to break them down for you.
TYPES OF VITAMIN C
First, a quick skincare science lesson: "There are multiple forms of the ingredient itself, but the most potent and purest form of vitamin C is L-ascorbic acid," explains Yadav. However, "L-ascorbic acid is notoriously unstable and breaks down quickly once exposed to light, air, or heat." You may also see vitamin C pop up in ingredient lists as BV-OSC. While L-ascorbic acid is water-soluble, BV-OSC is oil-soluble (it's also more stable). 
Some ingredients, like the papaya and pineapple enzymes formulated in the Doctor's Visit Instant Resurfacing Mask, contain natural sources of vitamin C, too. 
Because of the ingredient's stability (or in this case, lack thereof), the formulation matters in a big way. "How the ingredient is formulated and packaged determines how effective the product is at delivering those vitamin C benefits," explains the derm. That's also why you'll often see vitamin C products in dark or opaque packaging, to prevent the ingredient from breaking down in sunlight. To keep things fresh, always store your brightening products in a cabinet, drawer, or fridge—anywhere far from windows and steamy showers.
WHICH TYPE OF VITAMIN C IS BEST?
It's not hard to find vitamin C-powered skincare these days but based on your skin goals, one format may work better than the other. Here are the most effective types:
VITAMIN C POWDER
If you're looking for something both potent and versatile, try vitamin C powder. While it may not be the format you're used to when it comes to the rest of your regimen, it is the most stable. And that's important, considering how easily L-ascorbic acid degrades. Our Found the Light Vitamin C Powder can be blended with just about any skincare product in your arsenal (like a moisturizer, oil, or serum) and is made with tapioca starch—a safer alternative to talc.
VITAMIN C SERUM
Liquid vitamin C, found in serums, gels, masks, and toners, often contains several other ingredients for a supercharged treatment that goes beyond brightening. For example, the Weekend Glow Daily Brightening Toner not only has vitamin C but also contains acids that gently exfoliate away dead skin cells and blur the appearance of pores. A serum that combines vitamin C, microalgae, and ferulic acid brightens age spots but also firms and protects the skin from future damage, like blue light and pollution. Vitamin C and niacinamide, formulated together in both our Brightening Eye Gel and Brightening Serum, also work together to amplify each other's individual benefits.
VITAMIN C MOISTURIZER 
Target dryness and dark spots with moisturizers spiked with vitamin C. They tend to have lower concentrations of the ingredient, which may be less irritating and more ideal for dry, sensitive skin types. And of course, they have the added benefit of moisturizing the skin while evening tone and strengthening the skin's barrier. Our Weekend Glow Daily Brightening Moisturizer uses two stable, quick-absorbing forms to help brighten and firm the skin more efficiently than traditional vitamin C.
Bonus points for any formulas that also include sunscreen, which is a one-two punch of protection. "Vitamin C moisturizers made with SPF are particularly synergistic," says Dr. Yadav. Even if yours doesn't contain sunscreen, always make sure to follow up with some afterward. "In addition to helping seal essential moisture into the skin via hydrating and emollient ingredients, vitamin C and sunscreen work in tandem to help protect skin from UV damage and environmental aggressors." You can get similar benefits by wearing a broad-spectrum SPF that's formulated with other antioxidants, like the moringa seed extract in Guards Up.
Got more questions? Read how, when, and where to apply vitamin C, then shop some of our favorite brightening products below.