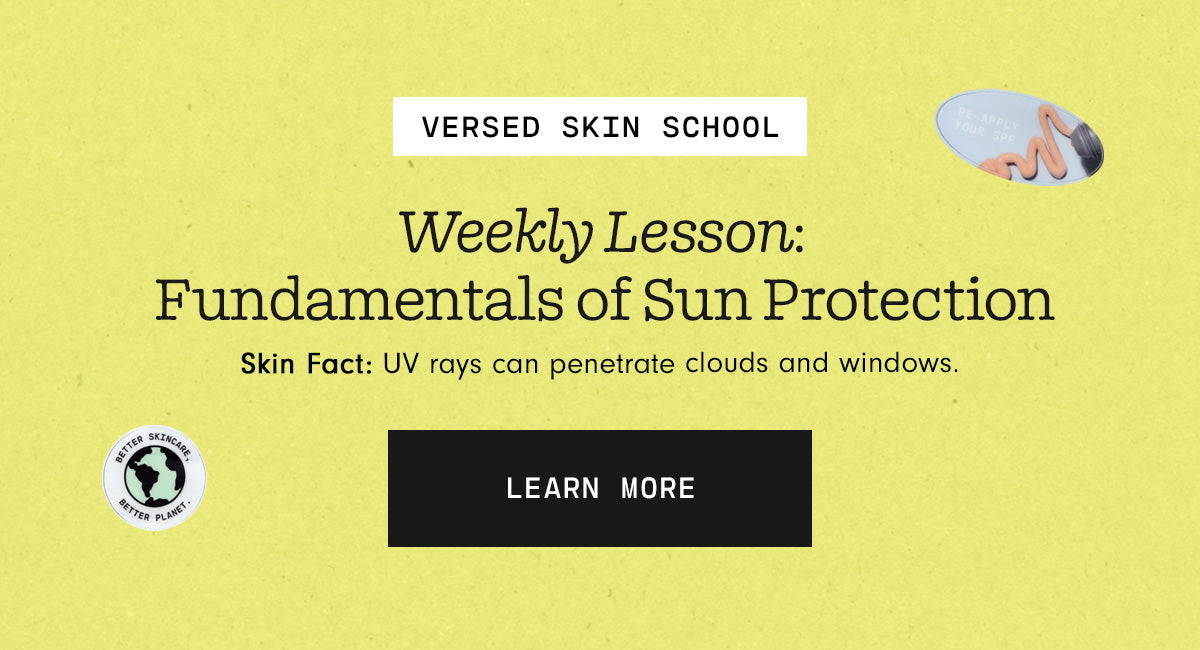 Lesson 6: Guards Up Q&A: Everything To Know About Our SPF
When browsing skincare (or anything, really), the first thought that typically comes to mind is do I need this? With SPF, there is no question. Every person, age, and complexion should wear sun protection daily—winter or summer, rain or shine, indoors or out. Not only does sunscreen help protect the body from skin cancer and burning, but there are cosmetic reasons too. Sunscreen shields the skin from all sorts of damage—from sun spots and acne scars to premature fine lines and sagging skin.
While you may not question whether you need daily sunscreen, you probably do have questions about its formula and how to use it.
Read on for the complete guide to our
Guards Up Daily Mineral Sunscreen
featuring many questions asked by you. 


WHAT'S INSIDE GUARDS UP DAILY MINERAL SUNSCREEN?
Q: What are the ingredients?
A: The main character in Guards Up is non-nano zinc oxide: a mineral that scatters and reflects UVA and UVB rays from the skin. It has a reputation in the SPF world as an effective, safe, and non-irritating protectant commonly found in physical sunscreens. 
Guards Up also touts moringa seed and sea fennel extract, which fight against pollution and HEV light (a.k.a. blue light), respectively. All together you get an antioxidant-rich sunscreen that offers three-way protection against skin damage. 
Q: Why do you use non-nano zinc oxide? 
A: First, a quick lesson on what non-nano means. A nanometer is a form of measurement; 100 nanometers is one billionth of a meter (that's tiny). For something to be considered non-nano, it must exceed 100 nanometers. Anything smaller than that is nano.
Why is non-nano preferable? A few reasons. A larger, non-nano particle is less likely to become absorbed by the skin and enter the bloodstream, which means it's considered safe for our bodies. It's also better for the environment; marine life can accidentally ingest nano zinc oxide and suffer from internal damage. Non-nano zinc oxide, on the other hand, is considered
reef-safe
. 
Q: What is mineral sunscreen?
A: Mineral, also known as physical sunscreen, is a type of sun protection where the ingredients—such as zinc oxide—sit on top of skin's surface and physically repel UV rays from the skin. Chemical sunscreen, on the other hand, is absorbed into the skin and converts UV rays into heat. Learn more about the types of sunscreen here.

Q: What is the sun protection factor of Guards Up? 
A: Guards Up has an SPF of 35, which blocks 97% of sun rays. (No sunscreen currently blocks 100% of UV rays.) The American Academy of Dermatology recommends wearing sunscreen with an SPF of 30 or higher, so with proper application, our sunscreen gives you ample protection. While you can always wear a sun cream with a higher SPF, know that you won't be getting much more out of it—for example, SPF 50 only blocks 1% more rays than SPF 30.
Q: Is it broad spectrum?
A: Correct! In case you missed it, there are two types of UV rays: UVA and UVB. UVA rays (the "aging" ones) hit the skin's epidermis, leading to premature wrinkles, dark spots, and other signs of aging skin. UVB rays (the "burning" ones) penetrate the dermis, causing sunburn. Both types of rays can cause skin cancer.
Essentially, broad spectrum means that Guards Up protects the skin from both UVA and UVB rays.
Q: Is it waterproof and/or sweat-resistant?
A: No, Guards Up is designed to be your go-to, everyday sunscreen. If you plan on getting wet or sweating, have it on hand to re-apply immediately after toweling off.
Q: Is the formula FDA-approved?
A: Yes, Guards Up has the FDA stamp of approval. 
Q: What is the texture like? 
A: It's creamy with some lightweight moisture, but not at all heavy. It's also slightly matte and oil-free, so it doesn't feel greasy on the skin. 
Q: Is it tinted?
A: Guards Up is not tinted, but it does have a peachy hue to counteract the white cast that zinc oxide can have and ensure that the formula disappears into the skin once rubbed in.

Q: Does it have a scent?
A: All sunscreen has a slight scent due to the ingredients inside, but rest assured you will not smell like the beach while wearing Guards Up. The formula is also fragrance-free.
Q: Is it safe for sensitive skin? What about acne-prone complexions?
A: Yes, Guards Up is made for all skin types—even acne-prone ones. That being said, some mineral face sunscreens can be sensitizing. If you have particularly reactive skin or a history of allergic reactions, we recommend performing a patch test before using Guards Up (or any mineral sunscreen for that matter). 
THE BENEFITS OF GUARDS UP DAILY MINERAL SUNSCREEN
Q: How does it help protect against pollution?
A: Pollution, like cigarette smoke, releases free radicals into the atmosphere. These particles can adhere to the skin and cause damage, such as premature aging. The moringa seed extract in Guards Up is an anti-inflammatory antioxidant that neutralizes free radicals, physically preventing pollution particles from adhering to skin's surface and entering the cells. We like to say it's like using a non-stick cooking spray for your skin.
Q: Does it help protect against blue light?
A: It does. While sea fennel extract helps encourage collagen production, evening out discoloration and rough texture, it also protects the skin from blue light damage—HEV rays that are emitted from electronic devices such as phones and computers. Another great ingredient for blue light protection? Carrot root extract, which is found in our Weekend Glow Daily Brightening Moisturizer. Layer it on before Guards Up for amplified skin protection.

Q: Does it leave behind a white cast?
A: Because mineral sunscreen sits on top of the skin, and many minerals are indeed, white, they're known to sometimes leave behind a white or purple cast, especially on darker skin tones. Non-nano zinc oxide, given its extra small particles, helps reduce this. Guards Up's peach-like tone also helps neutralize the appearance of a white cast, blending to a natural skin-like finish.

While we vetted and tested the formula dozens of times on various skin tones to ensure it worked well for most complexions, everyone's skin is different. It can sometimes take a few minutes for this formula to disappear into the skin.
Q: Is Guards Up made with PCR packaging?
A: Yes, Guards Up is made with 79% PCR (post-consumer recycled) plastic. It comes in an FSC-certified box too, which means the paper is ethically sourced.
Q: Can I recycle it?
A: Like any product, we always recommend consulting your local recycling program to confirm they accept materials that look like ours. If they do, throw away the cap first. Cut the tube open (but not in half), remove any excess residue, rinse, and toss in the recycling bin.

If Guards Up isn't accepted near you, you can send it to our Recycle Responsibly program and we'll recycle it for you. 
HOW TO APPLY GUARDS UP DAILY MINERAL SUNSCREEN
Q: How much do I need to use?
A: To ensure you're getting ample coverage, we recommend a ½ teaspoon, which is about the size of a coin or the length of a fingertip. 
Q: How often do I need to reapply?
A: The FDA recommends reapplying your sunscreen every two hours, or after getting wet and/or excessively sweating. Even though mineral sunscreen goes to work right away, we also suggest following FDA guidelines to wait 15 minutes before sun exposure.

Q: Can this be used in place of a moisturizer?
A: Guards Up does have some moisturizing benefits, so it could double as a moisturizer depending on your skin type and how much moisture it typically craves. Oily skin types, for example, may be okay with this. If you have normal to dry skin, you'll probably want to apply a moisturizer like Skin Soak beforehand.

Q: Can I wear it over makeup?
A: That depends on the makeup. Guards Up tends to apply well over light, water-based products (like Mood Lighting). Heavy, full-coverage formulas may lead to pilling. To avoid that, always apply with a lightweight touch and smooth (not rub) it on gently. We also suggest letting the sunscreen sink for  2-3 minutes before moving on to cosmetics. 
Q: Do I need to wear it daily?
A: Please do. UV rays are present year-round—they can even penetrate windows and reflect off of snow. To protect your skin (and the results from your skincare), we encourage our community to wear Guards Up daily. 
Q: Can I use it on my body, too?
A: Guards Up is meant for the face but it can certainly be applied to the rest of your skin, too.
Q: Can kids use it?
A: While children under 6 months should not wear sunscreen (and should avoid the sun entirely), it is perfectly safe for your older kiddos to use Guards Up. 
Have a question you don't see here? Send us a note.