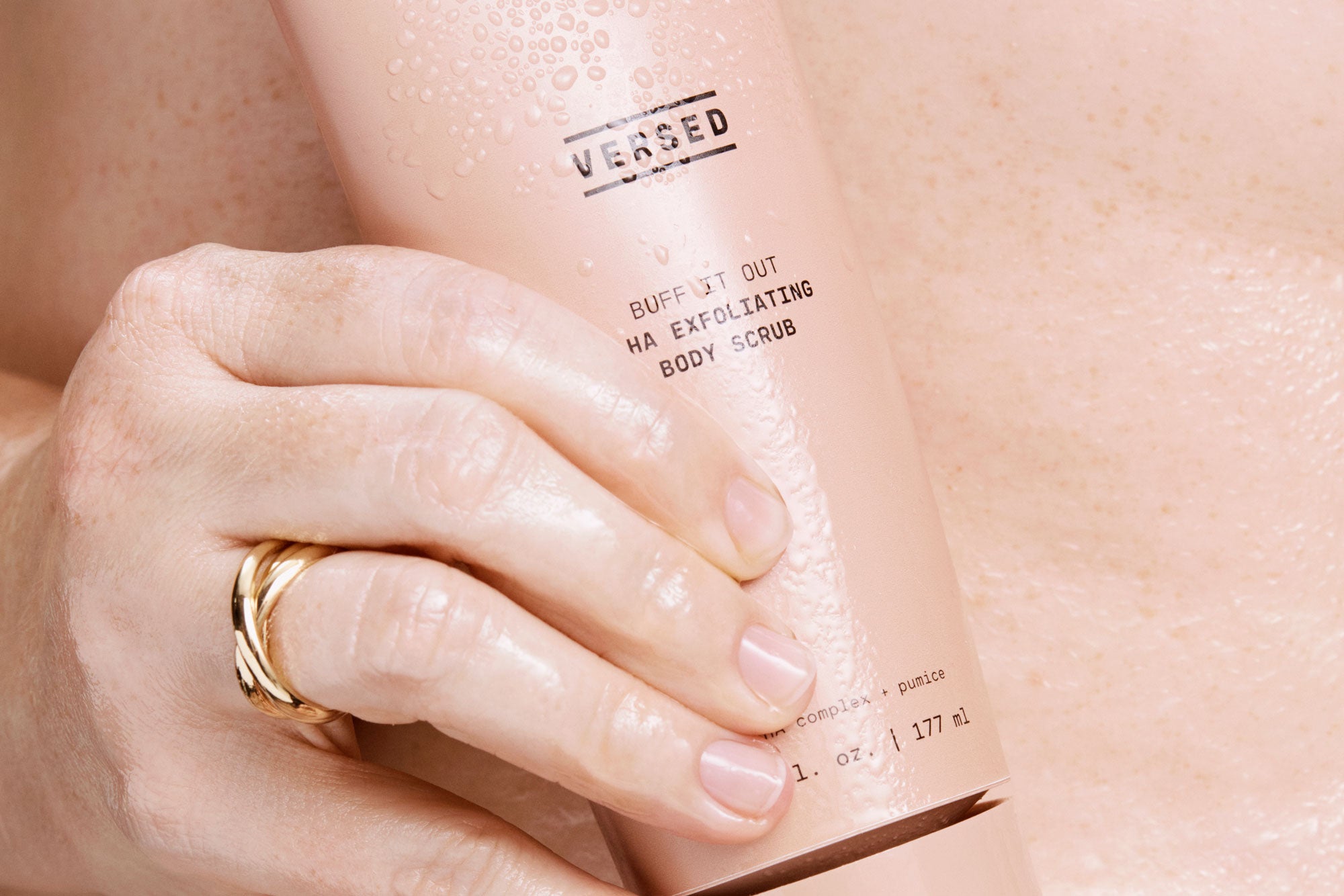 How to Get Glass Skin Using Buff It Out AHA Exfoliating Body Scrub
You've heard of glass skin for the face, but what about the body? We hadn't either, which is precisely why we formulated a product that could achieve that glowy, "glazed donut" look from shoulders to toes.

Introducing Buff It Out AHA Exfoliating Body Scrub, our new dermatologist-tested formula that goes beyond smooth, delivering glass skin results everywhere from the neck down (just check out those trial results below).
We're sure you have questions, so we already went ahead and answered them for you. Read on for a complete guide to using Buff It Out.
WHAT IS BUFF IT OUT?
Q: What is the Buff It Out AHA Exfoliating Body Scrub?
A:
Buff It Out is an in-shower resurfacing treatment that reduces bumps,
brightens dark spots
, and softens dry patches for smooth-as-glass skin below the chin.
It's also dermatologist-tested, sensitive skin-approved, and artificial fragrance-free. 


Q: What is the texture? Is it gritty?
A: This creamy exfoliator has a medium grit that's enough to be effective without feeling harsh. What you won't find? Plastic microbeads, rough shells, or jagged seeds. If you like the texture of our Day Maker Microcrystal Exfoliator, you'll enjoy the feel of Buff It Out.
Q: What are the ingredients and their strengths?
A: Inside is 10% AHAs (9% lactic and 1% glycolic acid) and 20% uniform, microfine pumice. These chemical and physical exfoliants work better together to dissolve dead cells and unclog pores for smooth, clear, glowing skin.
We also added 0.1% pomegranate enzymes, a gentle AHA-like ingredient that encourages the renewal of skin cells to slow signs of aging, such as fine lines and crepey skin.
Q: What makes this scrub better than other exfoliators?
A: We've been working on Buff It Out for a very long time (think 14 formula changes, 60 product testers, and 9 packaging changes kind of long). While there are other dual exfoliators on the market, ours has a gentler AHA combination with a lactic to glycolic acid ratio of 9:1. With a greater emphasis on lactic acid (which we've coined the gentle giant of skincare), you'll get the results you want without the irritation or dryness.
THE BENEFITS OF BUFF IT OUT
Q: What results can I expect? 
A:
Glass skin, anyone? With consistent use, you can expect to see an improvement in "
chicken skin
", strawberry legs, body breakouts, and ingrown hairs—plus fewer dry patches, less discoloration, and a silky smooth texture. During our consumer perception trial, testers aged 18-65 applied Buff It Out over a two-week period; these were the results:


97% say skin feels softer and smoother
94% say skin looks brighter
93% agree it improves the appearance of rough, bumpy skin

Q: What is glass skin anyways?
A: Take a peek at your skin post-facial and you'll probably liken your reflection to a glazed donut: a dewy, soft-focus glow that feels as good as it looks. In the K-beauty scene that experience is referred to as 'glass skin': pores blurred, texture smooth, and skin tone so luminous it's practically reflective. With Buff It Out, now you can get those glass skin results on the body too.
Q: How long until I see results?
A: Like any exfoliator, you can expect softer, brighter-looking skin right away. It can take about 4-6 weeks to see an improvement in uneven texture (like keratosis pilaris), dark spots, and overall skin clarity. For best results, use consistently and protect your skin by wearing a broad spectrum sunscreen daily. 
Q: Can't I just use a loofah or dry brush?
A: Loofahs and dry brushes are great for physical exfoliation, meaning they manually brush off the topmost layer of skin. However, this type of exfoliation isn't able to penetrate the pores like chemical exfoliation can. With our AHA body scrub, you're able to reap the benefits of both physical and chemical exfoliation for the price of one. 
Q: Does it have a scent?
A: No. We don't include artificial fragrance in any of our products as it can cause irritation, redness, and other uncomfortable skin concerns.
WHO SHOULD USE BUFF IT OUT
Q: What skin types and concerns is this product made for?
A:
Thanks to its ultra-gentle formula, Buff It Out's high-performance exfoliation is available to every skin type and concern. We especially recommend trying it out if any of the below concerns are on your to-tackle list:


Dry patches
Uneven texture ("chicken skin" and strawberry legs)
Dullness
Hyperpigmentation
Ingrown hairs
Premature aging
Q: Can I use it on sensitive skin?
A: Yes, Buff It Out is sensitive skin-approved. If you err on the side of caution, patch test a small area of skin before diving in. 
Q: Can this product help conditions like keratosis pilaris (KP) and eczema?
A: Exfoliation is crucial when it comes to treating bumps and flakiness. Because this exfoliating body scrub is sensitive skin-approved, it can help KP and eczema symptoms without exacerbating flare-ups. If you have a skin condition, however, we always recommend consulting with your dermatologist before introducing a new product to your routine. 
Q: Is it pregnancy-safe?
A: Small percentages of AHAs are generally considered pregnancy-safe, but if you're expecting or nursing, we suggest consulting with your doctor first.
HOW TO USE BUFF IT OUT
Q: How do I apply Buff It Out?
A:
Easily, thanks to this tube's handy, no-mess squeeze bottle. In the shower or bath, twist the cap open halfway, then squeeze out a generous amount. Massage into wet skin using gentle circular motions before rinsing.


Q: Can this replace my body wash?
A: No, Buff It Out isn't a soap. Cleanse the body first before applying.
Q: Should I shave before or after exfoliating?
A: We suggest exfoliating with Buff It Out before grabbing your razor. By brushing away dead skin cells and unblocking the pores, you'll be able to achieve a much closer shave. It can even help prevent ingrown hairs.
Q: How often should I Use Buff It Out?
A: Similarly to facial exfoliators, we suggest incorporating Buff It Out into your shower routine 1-3x per week.
Q: What should I do after exfoliating? Can I layer it with retinol?
A: Restore hydration immediately after exfoliating with a lotion or body oil, such as Keep It Supple. Because of its uber-gentle formula, most skin types will be able to layer on the Press Restart Gentle Retinol Body Lotion, especially if you shower during the AM and apply the lotion at night. If you're sensitive, however, opt to use Press Restart on the nights you aren't exfoliating.
Q: Can I recycle it?
A: Please do! Buff It Out's tube is made with 86% recycled plastic and is typically curbside recyclable. Before tossing anything in your recycling bin, however, check if the curbside recycling program for your zip code accepts plastic items that look like our packaging. If it does, throw away the cap, cut the tube open (but not in half), remove any excess product, rinse, and toss it in the recycling bin.
If your program doesn't accept this type of item, don't fret. You can send it to our Recycle Responsibly Program instead.
WHERE TO APPLY BUFF IT OUT
Q: Can this be used on the face?
A:
This product is specifically made for the body, whose skin is much thicker than the face.
If you're looking for similar results on the neck up, try our Weekend Glow Daily Brightening Toner or
Instant Gratification At-Home Dermaplaning Tool
. 
Q: Is this a good product to use before or after a spray tan?
A: Yes! If you're into spray tanning, we recommend exfoliating beforehand to prevent uneven application, blotchiness, and patches. You can also use Buff It Out afterward to help remedy uneven tan lines or too-dark shades—it happens.
Q: Is this safe to use over tattoos?
A: Yes, as long as the tattoo is fully healed, which can take 1-3 months. Consult with your tattoo artist if you're concerned.
Shop for a head-to-toe glass skin routine below.