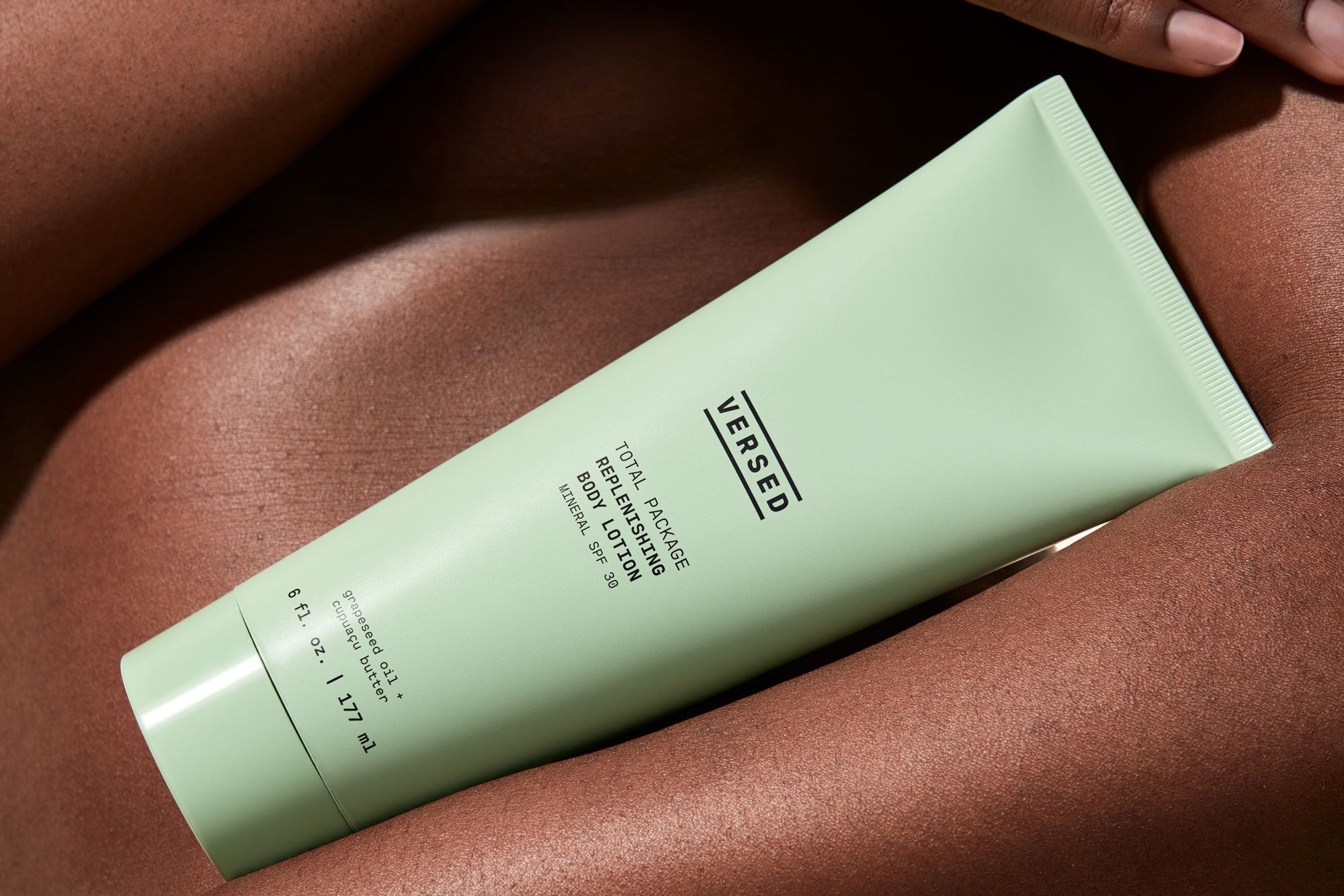 Every Question About Our Replenishing Body Lotion With SPF, Answered
We all know the importance of wearing sunscreen daily. (And in case you need a reminder, here's a dermatologist's perspective.) It's one of the reasons we created our Guards Up SPF: everyday mineral sun protection you can seamlessly apply within your skincare routine.

But if we asked you to close your eyes and conjure up a memory of applying sunscreen on your body, chances are you'd envision yourself hitting the beach, laying poolside with a good novel, hiking in nature, or a similar outdoor activity where you anticipate direct and prolonged sun exposure. We'd also guess that said body SPF felt sticky, smelled beachy, and probably didn't have the cleanest ingredient list.

This precise scenario is what led us to create our newest addition to body care: Total Package Replenishing Body Lotion with Mineral SPF 30. It's not just a body lotion, but a daily restorative moisturizer infused with non-nano zinc oxide for the broad-spectrum sun protection your body needs–not just on beach days, poolside, or on a hike, but every day.

Everything you need to know about Total Package, from the ingredients to its benefits to its texture, can be answered down below. 
Q: What is the Total Package Replenishing Body Lotion?
A: Think of Total Package as your everyday body lotion and sunscreen in one (there's a reason we called it Total Package). It lightly moisturizes while also delivering broad-spectrum UV protection. The formula is also dermatologist-tested, sensitive skin-approved, water-resistant, and artificial fragrance-free. 
Q: What is the texture? Is it sticky?
A: Total Package is lightweight, yet deeply moisturizing. We specifically designed it to be non-sticky, sinking into the skin quickly and easily. If you like the texture of our Press Restart Gentle Retinol Body Lotion, you'll enjoy the feel of Total Package. PSA: These two work great together. Apply Press Restart to repair skin during the PM, then moisturize with Total Package to protect and defend your results in the AM.

Q: What are the ingredients and their strengths?
A: The formula contains both moisturizing and skin-protecting ingredients for soft, strong skin below the chin. For ample hydration, we used 0.5% cupuaçu butter (which is 2x more hydrating than shea butter) and 1% sodium PCA, a naturally occurring ingredient that locks in moisture. On the protection side, you'll find 17.6% zinc oxide (the same SPF active found in Guards Up) and grapeseed oil–an antioxidant-rich form of vitamin E that strengthens the barrier and fends off free radicals.
Q: What makes this lotion different from body sunscreen?
Lots of things! Total Package is first, and foremost, a body lotion that hydrates, softens dry patches, and leaves the skin feeling silky smooth. It's also fragrance-free (no beachy scent here!) and sheer; once the formula is rubbed in, it seamlessly sinks into the skin, minimizing the appearance of a white cast for most skin tones. Its sleek, green tube is also made with 30% recycled plastic, meaning you get an upgrade not just for the environment, but also for your top shelf.
Q: What results can I expect? 
A: Besides the immediate burst of hydration, you can expect similar benefits as using a facial mineral sunscreen: protection against dark spots, premature wrinkles and sagging skin, dullness, uneven texture, and acne scarring. During our consumer perception trial, testers aged 20-60 applied Total Package over a two-week period; these were the results:
81% say skin feels smoother, softer, and more hydrated
81% say it smooths and hydrates dry, rough, and flaky skin
88% say it is gentle and non-irritating
Q: What skin types and concerns is this product made for?
A: Total Package is meant to be a product staple in every skincare routine, no matter the age, gender, skin type, or concerns. If any of the following are on your skincare to-do list, we recommend picking up a tube.
Dry skin

Rough patches
Dark spots and acne scarring
Dull skin
Premature wrinkles and sagging skin
Q: Can I use it on sensitive skin?
A: Yes, Total Package is sensitive skin-approved. If you err on the side of caution, patch test a small area of skin before diving in. 
Q: Is it pregnancy-safe?
A: The formula is considered pregnancy-safe, but if you're expecting or nursing, we suggest consulting with your doctor first before adding anything new to your routine.
Q: How do I apply Total Package?
A: Shake well and massage a generous amount into dry skin, anywhere below the chin. While mineral sunscreen gets to work right away, we still recommend following FDA's guidelines and waiting 15 minutes before exposing skin to the sun. Reminder: While it is water-resistant, this is meant to be an everyday sunscreen, not for sports or vigorous exercise. Reapply every two hours or after getting wet or excessively sweating.
Q: How often should I Use Total Package?
A: Similarly to facial sunscreen, we suggest incorporating Total Package into your daily AM routine 365 days a year–rain or shine, indoors or out.
Q: Can I recycle it?
A: Please do! Total Package's tube is made with 30% PCR and is typically curbside recyclable. Before tossing anything in your recycling bin, however, check if the curbside recycling program for your zip code accepts plastic items that look like our packaging. Remove the cap and throw it away in the trash. Cut the tube open (but not in half!), remove any excess product, rinse, and toss in the recycling bin.*

If your program doesn't accept this type of item, don't fret. You can send it to our Recycle Responsibly Program instead.
Q: Can this be used on the face?
A: This product is specifically made for the body, which has much thicker skin than the face. If you're looking for a similar product for the neck up, we recommend layering Dew Point, Skin Soak, or Weekend Glow with Guards Up.
Shop more body care below.