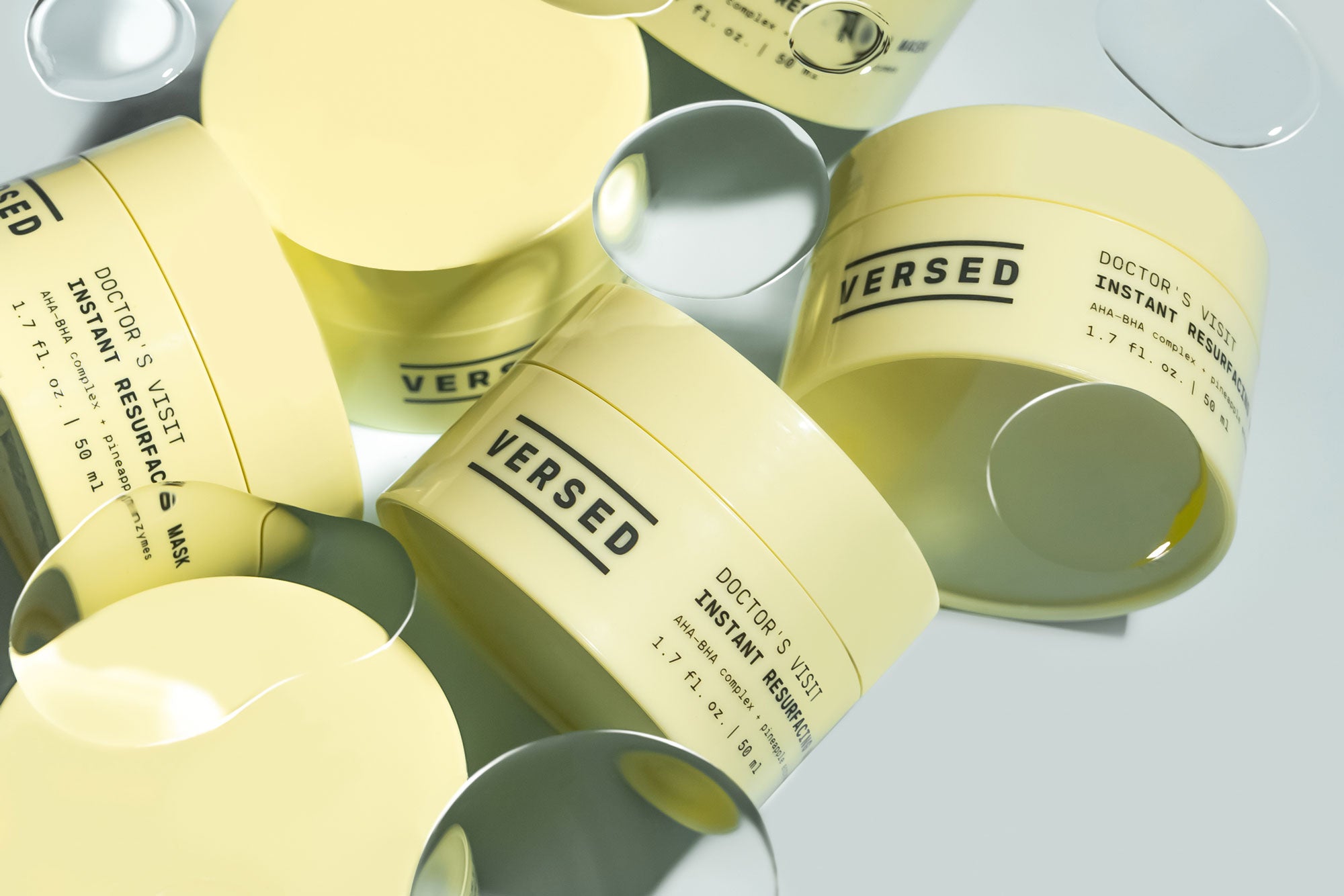 How to Achieve "Glass Skin" Using the Instant Resurfacing Mask
Take a peek at your skin post-facial and you'll probably liken your reflection to a glazed donut: a dewy, soft-focus glow that feels as good as it looks. In the K-beauty scene that experience is referred to as 'glass skin': pores blurred, texture smooth, and skin tone so luminous it's practically reflective. See it IRL on Aisha Nur below.
Glass skin can feel elusive; not everyone has access to regular facials and DIY-ing with skincare can be difficult, especially if you have acne-prone skin. All this was factored in when we formulated our Doctor's Visit Instant Resurfacing Mask. We wanted a product that could deliver on results without the pricy appointments and time-consuming routines, which is how our little pot of golden glow was born. We answer all your questions about the mask below.
WHO SHOULD USE DOCTOR'S VISIT?
What skin types and concerns can benefit from it?
Anyone who wants to achieve that dewy, glass look mentioned above would greatly benefit from adding Doctor's Visit to their routine (hear it from Dr. Shah himself below). More specifically, the mask was formulated to target concerns associated with dullness and aging skin—including premature damage—although it has fringe benefits for acne-prone complexions, too. Use if any of these are on your list of skin goals: brighter tone, fewer dark spots and post-acne marks, softened texture, minimized pores, and a more luminous, youthful complexion. 
Is it pregnancy-safe?
Two of the mask's ingredients, AHAs and salicylic acid, are not generally recommended for use during pregnancy (although some derms say it's okay in small amounts). If you're pregnant or nursing, we don't recommend using our Instant Resurfacing Mask unless you have approval from your doctor. For similar benefits that are mom-safe, try the microcrystalline in Day Maker or kaolin clay found in Photos, Please.
I have sensitive skin, can I use Doctor's Visit?
Subtle redness and tingling are normal after use (don't worry, it will subside pretty quickly) but, that being said, every skin's tolerance level is different. If you're uber-sensitive—especially to acids or vitamin C—Doctor's Visit may not be the right choice for you. 
If you're unsure, start with a patch test; apply a small amount of product to your neck and leave it on for one minute. If you notice any intense burning or itching, discontinue use and try our Overnight Facial instead, which delivers similar results but is gentle enough for sensitive skin. 
HOW DOES DOCTOR'S VISIT WORK?
What are the ingredients and their strengths?
The mask's glowy goop is chock full of derm-recommended ingredients that are proven to provide visible changes in texture and tone. AHAs (2% lactic acid and 2% glycolic acid) work together to dissolve away any dead skin cells that adhere to skin's surface and cause a tired, lackluster complexion. Meanwhile, 0.15% of the BHA salicylic acid digs deep into pores, removing debris and bacteria that can stretch them out and cause breakouts. And finally, 1.2% pineapple and papaya enzymes infuse skin with vitamin C, brightening spots of hyperpigmentation and neutralizing free radicals that damage the skin and cause premature aging. 
How long until I see results?
The mask is called "instant" for a reason—because of its exfoliating properties, most report a brighter tone and softened texture right away. However, the results get even better over time; apply weekly for four weeks to see significant improvement in the skin. Just don't forget sunscreen in the morning to protect skin against UV ray damage and pollution, both of which can interfere with results.
What is Doctor's Visit pH?
The pH of Doctor's Visit is 3.68. Resurfacing products with acids rely on a low (a.k.a. acidic) pH to safely exfoliate the skin. Anything below 3.5 and the formula can start to feel irritating and drying—exactly what you don't want. At 3.68, you'll get the brightening, glow-inducing benefits without the side effects.
What's the difference between Doctor's Visit and The Shortcut? Can I use both?
Both products provide similar results for dull, aging skin, so, understandably, you may be unsure about which is right for you. 
As we mentioned before, The Shortcut is a great choice if you have sensitive skin or if you're new to acids. It's a leave-on lotion that has AHAs but also nourishing ingredients like vitamin E, allantoin, and rosehip seed oil for added moisture and protection. The Shortcut is applied overnight as the last step of your routine up to 3 nights per week.
Consider Doctor's Visit as a more intensive version of The Shortcut. It's a wash-off mask that only sits on the skin for 2-3 minutes once per week, maximizing the skin's resurfacing potential without damaging it. Because Doctor's Visit contains salicylic acid, a proven ingredient for treating pimples, it may be a better choice for acne-prone skin types, too.
Don't want to choose? Most complexions can benefit from
exfoliating up to three times a week
. Use Doctor's Visit on one night and The Shortcut on another night. Just don't overdo it by applying them on back-to-back nights. 


Does it burn or tingle?
With acids, a slight tingling or "spicy" sensation is normal. If you feel severe burning or irritation, however, rinse your face immediately with cool water. If it's too much for you, opt for The Shortcut instead.
Will this cause my skin to purge?
For most skin types, no. Ingredients that promote skin cell turnover can cause purging, pushing old cells—along with any acne-causing oil and buildup—to the surface. Out of 18 community testers, one noted purging when starting the Instant Resurfacing Mask. If that happens to you, give the mask a few weeks of consistent use to clear out any remaining impurities; the breakouts should subside over time. 
Is it safe to use on fungal acne?
We do not recommend using Doctor's Visit if you are dealing with fungal acne unless you get your dermatologist's okay.

HOW AND WHEN TO USE THE INSTANT RESURFACING MASK
When and how often should I apply it?
Use once a week, ideally at nighttime to protect your newly rejuvenated skin from sun damage. Scoop out (you can use a tool if you prefer, but clean hands are sufficient) and smooth an even layer on the skin. Set a timer and rinse off with cool water after 2-3 minutes. Pat dry, then follow up with a hydrating serum, moisturizer, or facial oil. 
What's the longest I can leave Doctor's Visit on?
Rinse off after a max of 3 minutes. Any longer and you can irritate your moisture barrier, causing inflammation, sensitization, and redness. 
Can I use this with other exfoliants and retinol?
Overexfoliating or doubling up on active ingredients (like acids and retinol) can be too much for the skin. We recommend giving your skin a break from other exfoliators, acids, and retinol for 24 hours before and after using Doctor's Visit. If you're layering serums afterward, stick to gentle hydrators like the hyaluronic acid.
What products do you recommend using alongside Doctor's Visit?
Definitely Guards Up Daily Mineral Sunscreen, which protects the skin against future damage and preserves that glowing, even texture. If you're targeting dark spots, we suggest using Out of Sight's precision applicator to brighten specific areas of discoloration on days you aren't using the mask. Our Stroke of Brilliance serum has benefits for dull, aging skin, too. Restore hydration and amplify that glass skin look with Dew Point, whose aloe leaf juice and hyaluronic acid give skin a bouncy, dewy appearance.
Read our guide to using the Smooth Landing Advanced Retinoid Eye Balm next.