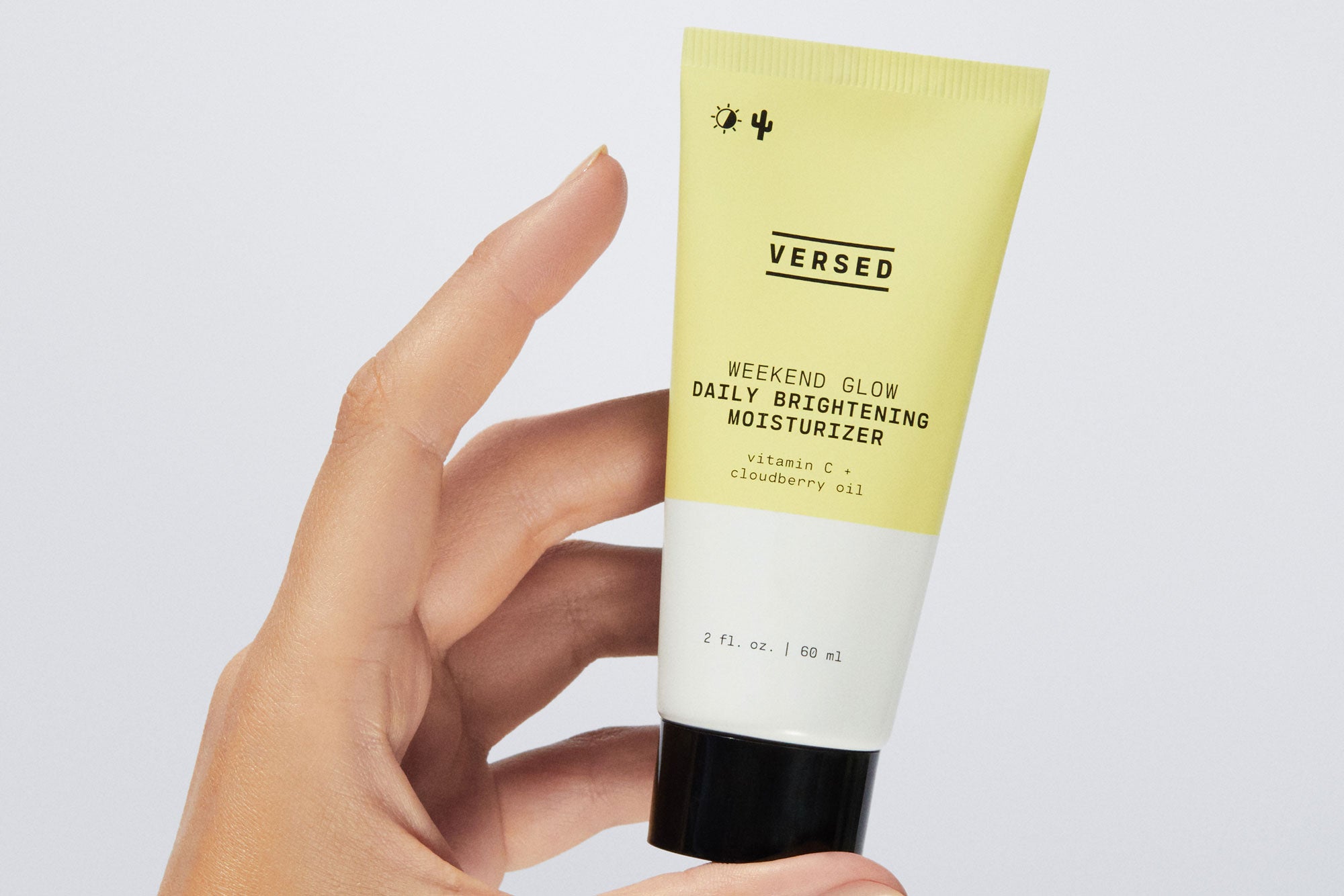 FAQs About Our New Weekend Glow Daily Brightening Moisturizer
Meet our new vitamin C-rich moisturizer: Weekend Glow. Sound familiar? 
The OG Weekend Glow (our Daily Brightening Toner) was born after our DMs were flooded with requests for an acid-based treatment that would brighten dullness and fade post-acne marks. The results—and response from our community—were so good that we set out to create a sibling product you could use right afterward to help prolong that weekend glow while restoring hydration, post-exfoliation.
Enter: Weekend Glow Daily Brightening Moisturizer. Formulated with a blend of brightening, moisturizing, and skin-strengthening ingredients, it pairs perfectly with our best-selling toner. 
We answer all our questions about the product below. Have more? Email us.
WHAT IS THE DAILY BRIGHTENING MOISTURIZER?
Q: What is the Weekend Glow Daily Brightening Moisturizer?
A: More than a moisturizer, it's a dermatologist-tested, vitamin C-rich cream that delivers everything you need for a more radiant complexion in a single step.
Q: What does it feel like? Is it thick and creamy or lightweight and bouncy?
A: Somewhere smack dab in the middle. Weekend Glow is more moisturizing with a thicker consistency than Dew Point, but less rich than Skin Soak and Recovery Mode. If you end up needing more moisture, you can always follow up with a few drops of our Sunday Morning Antioxidant Oil-Serum.
Q: What are the ingredients?
A: The hero of the formula, of course, is vitamin C. While this antioxidant comes dermatologist-recommended and is known as the gold standard in brightening skin tone, it's also notoriously unstable. Ours is different. We use two stabilized, quick-absorbing forms of vitamin C (BV-OSC and 3-glyceryl ascorbate) to penetrate the skin's layers more efficiently for even better brightening, firming results. 
We also added in cloudberry seed oil, a dreamy botanical that helps soften dry, uneven skin texture, plus carrot root extract. Known for its skin-regenerating properties, it's a blue light blocker that fends off dark spots, premature fine lines, and other forms of damage from screen time. 
Q: Isn't 2.5% vitamin C low?
A: Because we use stabilized forms, the vitamin C actives can work more effectively deep beneath the layers of the skin. At a healthy 2.5%, you get visible results without irritation—a common side effect of traditional vitamin C. 
Q: Is it made with recycled materials?
A: Yes, this moisturizer's tube is made using 30% PCR (post-consumer recycled plastic). Once you've run out, send it to our Recycle Responsibly Program.
THE BENEFITS OF WEEKEND GLOW
Q: How long until I see results?
A: That depends on your skin concerns. You can expect softer, brighter, more hydrated skin pretty quickly. It can take 1-8 weeks to see a noticeable difference in dark spots and post-acne marks, depending on how stubborn your hyperpigmentation is. As for restoring firmness, that can take 6-12 weeks.
Don't forget: Everyone's skin is different and results may vary from person to person. Stay consistent by applying daily and following up with a Daily Mineral Sunscreen.
Q: Is it only for uneven tone?
A: Not necessarily. While Weekend Glow was designed for dullness and dryness, it's beneficial for many other skin concerns too, such as premature aging, a compromised moisture barrier, loss of firmness, and bumpy texture.
Q: Will it clog my pores?
A: No. Our Daily Brightening Moisturizer underwent testing and was proven to be non-comedogenic (a.k.a. non-pore-clogging).
Q:  Is it made with artificial fragrance?
A: No, we don't include artificial fragrance in our products as it can cause irritation, redness, and other uncomfortable skin concerns. Any noticeable scent stems from the vitamin C actives and should subside shortly after application. 
WHO SHOULD USE WEEKEND GLOW
Q: What skin types is it best for?
A: We recommend our Daily Brightening Moisturizer if you have balanced, combination, or dry skin. (Not sure which skin type you are? Read our guide.) It's a-okay for sensitive skin and acneic types, too.
Q: I have sensitive skin. Can I use it?
A: Like every Versed product, Weekend Glow was tested on all skin types, including sensitive ones. (It's dermatologist-tested, too.) That being said, if your skin is extra sensitive to ingredients like vitamin C or has a history of allergic reactions, we recommend performing a patch test before diving in. 
Q: Is it pregnancy-safe?
A: Its ingredients are considered safe for pregnant and breastfeeding mamas, but we always recommend checking with your doctor if you have concerns.
HOW TO USE THE DAILY BRIGHTENING MOISTURIZER
Q: How do I use it?
A: After cleansing and applying our Weekend Glow toner, smooth a peanut-size amount onto clean, dry skin. Don't forget the neck and chest. Let it sink in for one minute before applying sunscreen.
Q: Can I use it every day?
A: Yes, we recommend applying daily for the best results. 
Q: Is it for daytime or nighttime use?
A: That's your choice. It can certainly be used morning, night, or both. If you're on the dry side, we suggest using the Weekend Glow Daily Brightening Moisturizer in the AM and switching to our Advanced Night Cream before bed. 
HOW TO LAYER WEEKEND GLOW
Q: Can I pair it with the Daily Brightening Toner?
A: Yes! Both our Weekend Daily Brightening Toner and Moisturizer (our first-ever collection) are designed to be used together in a single routine. After exfoliating with the toner, follow up with a peanut-size amount of moisturizer. 
Q: Can I layer it with a vitamin C serum? 
A: You can, but because both Weekend Glow products contain vitamin C, you certainly don't need to. If you think you need a bit more help targeting stubborn hyperpigmentation, spot treat discoloration with our Out of Sight Dark Spot Gel in between toning and moisturizing.
Q: Is it okay to use it with retinol?
To avoid any potential irritation, we don't recommend layering vitamin C with retinol. Use them on alternate days, or opt for Weekend Glow in the morning and retinol formulas, such as Press Restart, at night.
Q: Can I use it around my eyes?
A: You can, just be careful when applying any products near your eyes. If you're on the hunt for eyecare, we suggest Vacation Eyes Brightening Eye Gel.

Q: Can I use it on my body?
A: Weekend Glow is a facial moisturizer but there's no reason you can't apply it to other areas, too. If you're focused on hyperpigmentation, however, we recommend using our Retinol Body Lotion to treat discoloration on the knees, shoulders, arms, bum, and anywhere else from the neck down. 
Shop the Weekend Glow Collection (and our vitamin C favorites) below.